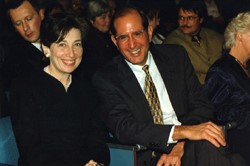 While working in Indonesia during the 1970s, ALFRED SOMMER, MD, SPH 1973, dean emeritus of the Johns Hopkins Bloomberg School of Public Health, made the groundbreaking discovery that mild vitamin A deficiency, a common cause of blindness in the developing world, also dramatically increased childhood morbidity and mortality from infectious diseases, particularly measles and diarrhea. He then waged a decade-long campaign to prove to others that a 4-cent pill could indeed reduce childhood mortality by 34 percent.
This singular insight–that low-dose vitamin A supplements could bolster the body's immune system and thus prevent millions of children around the world from dying of infectious diseases–led to the worldwide distribution of lifesaving vitamin A capsules. The discovery earned him the Albert Lasker Clinical Medical Research Award in 1997. In 2001, Dr. Sommer was elected to the National Academy of Sciences. Among many other honors, he received the Pollin Prize for Pediatric Research and the 2005 Helen Keller Prize for Vision Research. He has published five books and over 300 scientific articles.
In 2010, Dr. Sommer was named a University Distinguished Service Professor.
JILL SOMMER has worked in elementary and adult education, taught English as a foreign language, and directed Baltimore's Learning Center of General Motors. While sharing her husband's adventures and hardships, she has devoted much of her life to public health as well, and in particular to poor and suffering people in the developing world. In Indonesia, she organized primary education at an international school; she worked alongside her husband during the civil war in East Pakistan; and, during the devastating 1970 Bangladesh cyclone, administered aid to its victims. Through it all, she shepherded her growing family from one exotic location to another, and then back to Baltimore.
The Sommers still live in Baltimore, where Jill volunteers with the League of Women Voters and works with the Women's Giving Circle on grant administration and adult literacy and education; Al Sommer led the Johns Hopkins Bloomberg School of Public Health from 1990 to 2005 and is now chair of the board of the Lasker Foundation, a philanthropy that supports biomedical research aimed at conquering disease, improving human health and extending life.