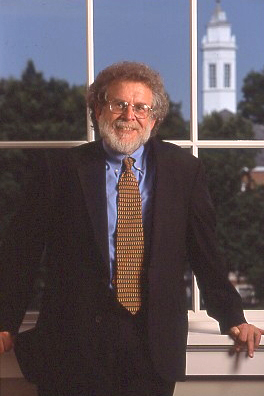 MURRAY B. SACHS served as the Massey Professor and director of the Department of Biomedical Engineering from 1991 to 2007. He is also professor in the departments of Neuroscience and Otolaryngology-Head and Neck Surgery and a University Distinguished Service Professor at Johns Hopkins.
Dr. Sachs was introduced to research on the nervous system while studying electrical engineering and auditory physiology at the Massachusetts Institute of Technology, where he received his academic degrees. Following his graduate studies and a short diversion from the auditory research for which he is renowned, he joined the faculty of The Johns Hopkins University in 1970, the same year the Biomedical Engineering Department was formed.
At Johns Hopkins, Dr. Sachs and his colleagues set out to further understand how the brain processes sounds, including speech and other complex stimuli. Their integration of basic research and clinical problems led to the establishment of the Center for Hearing Sciences in 1986 and the Research and Training Center for Hearing and Balance in 1991. Under Dr. Sachs' direction, both centers promoted interaction among scientists in the departments of Biomedical Engineering, Otolaryngology, and Neuroscience. Known as an inspiring teacher, Dr. Sachs trained many scientists who are leaders in auditory research and biomedical engineering today.
During Dr. Sachs' tenure as director and chair of Biomedical Engineering, the department saw many important advances, including the establishment of the Whitaker Biomedical Institute in 2001, a joint venture between the School of Medicine and the Whiting School of Engineering; the building of Clark Hall in 2005 as a home for biomedical engineering on the Homewood campus; and the department's U.S. News & World Report number one ranking from 1994 to the present.